Christmas
The Christmas offer is still a top priority for many businesses so the BID is working to improve and manage the 'all-round' Christmas offer including the development of more traditional markets and influence a coordinated event programme.
We are now delivering the event management for the annual Father Christmas Parade in partnership with Truro City Council and Visit Truro.
The Truro City Centre Christmas Lights are installed, maintained and funded by Truro BID; along with funding from Lionel and Carol Knight for the Angels and lights in Boscawen Street, and lights in Princes Street.

For 2018 and 2019 to add to the atmosphere for Wednesday late night shopping, we projected large visuals on the TUI building (corner of Boscawen Street and Lemon Street), and on the Arts Café in River Street. Truro BID are behind the projections, with the creative content produced by Truro and Penwith College students.
New for 2019, we sponsored Father Christmas at the Museum in River Street for Wednesday late-night shopping and Coppice Theatre's Jack's Frosty Stories for six performances on two dates.
We also support for the City of Lights event team to deliver this annual event that attracts circa 30,000 visitors and kick-starts Christmas in Truro.
---
Truro Christmas Street Markets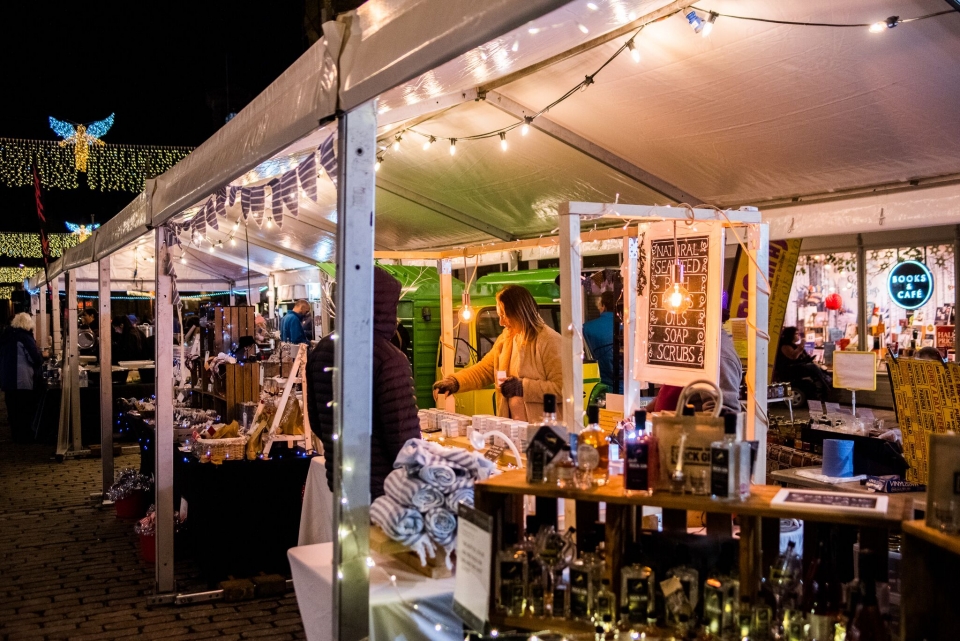 The Truro Christmas Street Markets selling quality gifts, food, drink and street food were hosted in Boscawen Street on four dates on Saturdays and Wednesday between 27th November – 21st December 2019.
Taking place during Truro's busiest period this pop-up all weather street market is perfectly located to reach tens of thousands of visitors coming into our great little city to shop and enjoy all that's on offer. Bookings will open in June 2020.

Truro is especially beautiful at this festive time of year with its cobbled street and amazing lights. With attractive daily rates, the market trading hours coincide with the extremely popular Wednesday Christmas late night shopping and busy Saturday's.

A maximum of 34 pitches (consisting of stalls selling Gifts/General Merchandise and Street Food) along with 6 pitches for privately owned Street Food Catering Vans are available. Prices for 2019 started from £75 + VAT for Saturday and £105 + VAT for Wednesdays.
We are very excited about making the market the best it can be so produced an e-brochure Guide to the Truro Christmas Street Markets for prospective Traders for 2019. If you would like to book or know more about Truro Christmas Street Markets for 2020 please
contact Truro BID, Alun Jones alun.jones@trurobid.co.uk