Our Great Little Festive City
Building on the 'Our great little festive Christmas' campaign,the BID are delivering an increased marketing plan specifically for this peak trading time,with increased promotion of what the City offers through local, PR, a festive publication, advertising in print, public-realm,digital and radio.
For Christmas 2021, we worked with Visit Truro and Pirate FM to promote Christmas and delivered the Our Great Little Festive City marketing campaign.
Activity included a social media campaign with Pirate FM/Bauer Media, radio advertising, waterproof posters on routes in and out of Truro and in the city centre, 25k flyers door dropped to homes, and posters and flyers within Truro's businesses.
The social media campaign with Bauer Media delivered 236k unique views, 1.87M overall impressions and 4,813 click-throughs to www.visittruro.org.uk. Total engagement came to 99,366.
We achieved media coverage in the West Briton, Truro Voice and online following our media releases. Full event listings were promoted on Visit Truro's webpage.
The 2017 and 2018 Campaign Design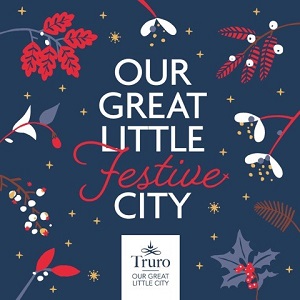 The 2019 Campaign Design