About the BID
Truro BID is a business led initiative supported by government legislation which gives businesses the power to raise funds locally to be spent locally on improving a defined commercial area. A BID is created when the majority of business ratepayers within that area vote to invest collectively in local improvements.
Truro's BID first became operational in October 2007 and returned with another successful 'yes' ballot result for a second 5 year term in October 2012. The BID represents circa 400 businesses and over the past 10 years has invested £3.4million into the City centre.
The BID is independent from local authorities and other statutory agencies and delivers projects over and above the baseline services provided by them.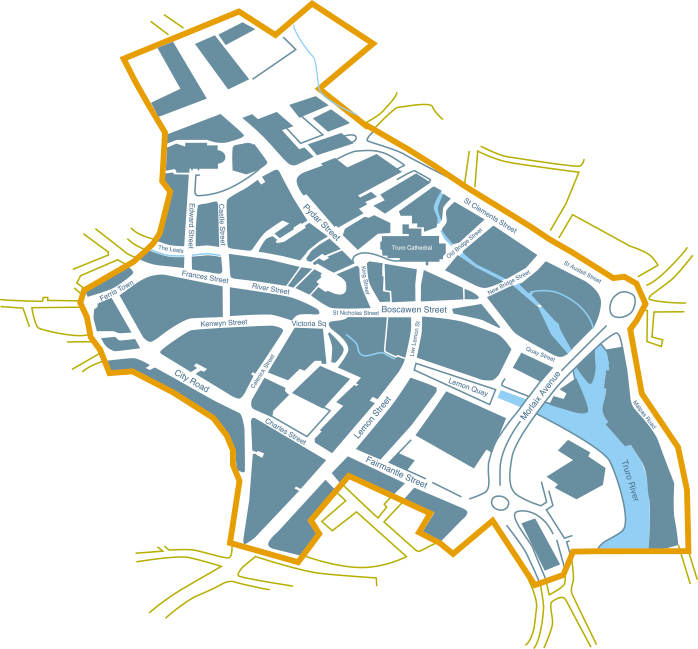 Celebrating our great little City's success:
A Snapshot of BID activities 2012 - 2017
Marketing
Created & distributed 200,000 Christmas event guides
Annual campaigns reaching c250,000 for each event
Over 9,000 followers on Social Media
350,000 annual visits to Enjoy Truro website
Hand delivered 6,000 newsletters to businesses
Events
Annual Christmas lighting scheme entirely funded by BID
6 weeks of festive street entertainment each year
30,000 attendees to City of Lights and Christmas Lights Switch-on each year
Truro Trend shortlisted for UK Award and reported additional retail sales of c£20k collectively
Facilitated 170 hours of free sports activities for visitors
Supported visiting events with a total of 90,000 people attending
Attractive and Accessible
Procured £154k of additional income for pedestrian signage project
Funded 1,300 additional floral displays which contributed to winning the Portman Cup, Champion of Champions and National Britain in Bloom Awards between 2012 – 2016
Increased monthly Shopwatch attendance to 30 businesses
Distributed 10,000 Truro Safe leaflets
Best for Business
Intervened in the South West Water works reducing the programme from 60+ weeks to 37 weeks
Free Defibrillator training to 40 Truro employees
Provided social media training to 30 Truro businesses